(1) Ningbo Sanding Steel Pipe Engineering Co., LTD
http://www.pipe-cn.com
Brief Introduction: Ningbo Sanding Steel Pipe Company is located in Ningbo Economic and Technological Development Zone, Zhejiang Province, China. It is a professional production enterprise engaged in super long and super large diameter welded steel pipe. Has 5000 tons of gantry file type self-provided wharf. The company takes large and medium diameter spiral seam buried arc welded steel pipe and straight seam pipe as the main products, and has the largest spiral welded pipe unit in China, which can realize mobile production. The annual production capacity is 200,000 tons, the pipe diameter is Ф 400~3050mm, and the wall thickness is δ 5~25mm.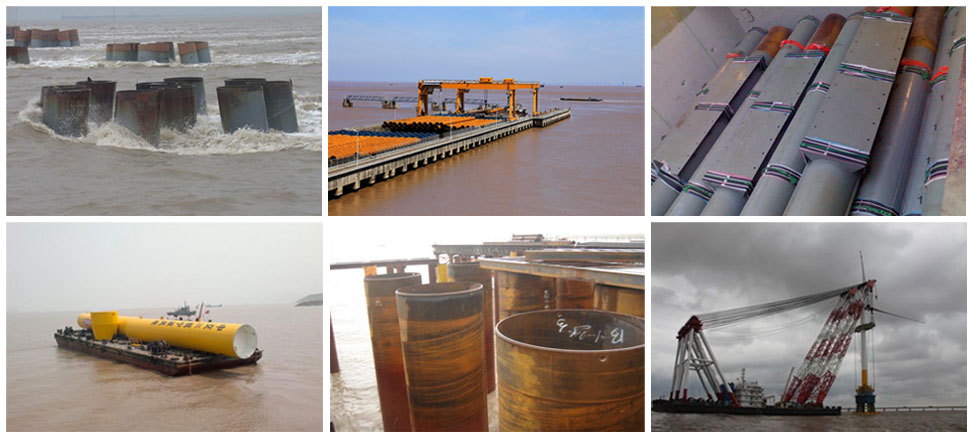 Order EZHONG products:
EZW11XY-150*3500 three-roll plate rolling machine

(EZW11XY-150 * 3500 three-roller roller)
Main parameter table
order number

item

unit

data

1

Machine specifications


mm

150×3500(245Mpa)

2

The upper roller diameter


mm

1060

3

Lower roller diameter


mm

860

4

Upper and lower roller material





60CrMnMo 42CrMo

5

Straight edge coefficient


mm

2~2.5times the plate thickness

6

Circulating temperature

C

20°C Cold roll

7

Plate yield limit

MPa

245

360

8

The maximum width of the coil

mm

3500

3500

9

Minimum drum diameter at full load

mm

Φ3000mm

Φ3500mm

10

maximum thickness of bending plate

mm

150

125

11

Prebend plate thick

mm

130

100

12

Two lower roll center distance

mm

1050~1750

13

Effective length of the working roller

mm

3580

14

Upper roller drives the total torque

t.m

120

15

Lower roller drive total torque

t.m

2*3.5

16

Horizontal movement speed of the lower roller cylinder

mm/min

350

17

Hydraulic system pressure and flow rate

Mpa

Motor~17, other up to 25

18

Pressure the cylinder diameter

mm

Ф870/Ф370/630

19

Total pressure under force

t

2430

20

Horizontal push for cylinder diameter

mm

Ф480

21

horizontal thrust

ton

900

21

upper roll speed


mm/min

0~200

23

The power of the machine

Kw

≈300

24

Horizontal movement of the lower roll on each side

mm

0~650
(2) Panzhihua Steel Group Great Wall special Steel
https://www.cssc.com.cn
Introduction: Jiangyou Great Wall Special Steel Co., LTD. (hereinafter referred to as: Great Wall Special Steel) is located in the hometown of —— Shixian Li Bai, Jiangyou City, Sichuan Province, with beautiful scenery, pleasant climate and convenient transportation. Founded in 1965, the company is a national special steel research and production base and a large backbone enterprise in Sichuan Province. It is an overall solution provider of high-end metal materials in China. It has an annual production capacity of 500,000 tons of special steel and 700,000 tons of special steel.Product coverage is wide, the company can be in accordance with the national standard, international standards and user technical conditions, provide carbon steel, steel, bearing steel, spring steel, mold steel, stainless steel, high strength steel, high temperature alloy, corrosion resistant alloy, precision alloy, titanium and titanium alloy and other 13 categories, more than 400 brand of special steel, special alloy and titanium products. The products are widely used in aviation, aerospace, Marine assembly, nuclear power, transportation, machinery, petrochemical and other fields, among which special alloy, special stainless steel, mold steel and other products occupy an important position in China, and the market share ranks among the best in the same industry.
Order EZHONG products:
EZW43BY-25*1500 11 rolls 1200mpa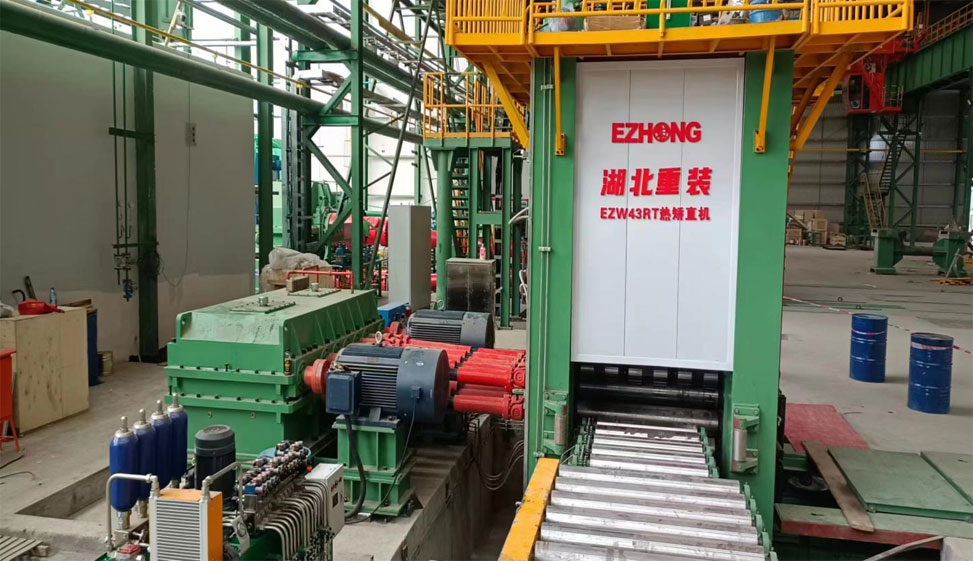 (EZW43BY-25*1500 11 rolls 1200mpa)
Main parameter table
Serial number

Name

Model specification

1

Straightening plate

Yield limit (MPa)

900C (≤ 800C)

Maximum thickness (mm)

2-4

4. 6.

6: 20

20: 25

Minimum thickness (mm)

2mm

Maximum width (mm)

1350mm

2

Work roll

Roll distance (mm)

250mm

Roll diameter (mm)

220mm

Roll length (mm)

1450mm

Number of rolls

11 (upper 5 and lower 6)

3

Supporting roll

Roll distance (mm)

250mm

Roll diameter (mm)

235mm

Number of columns

3

4

Movable beam

Press-down stroke (mm)

+ 100~-17mm

Press-down speed (mm/min)

25mm/min

Maximum swing

±5mm

Lifting height

130mm

5

Correction speed (m/min)

3: 20 frequency conversion is reversible, 10 at full load

6

Correction accuracy (mm/ accuracy)

≤ 10

≤ 5

≤ 3

≤ 10

7

Main motor power

110KW × 2

8

Press-down motor power

5.5KW × 2

9

Correct the relative elevation of the roll surface

800mm

10

The external dimensions of the mainframe (length × width × height)

~ (7100 × 5562 × 5446)